Azure Updates: ExpressRoute Direct and Global Reach
@20aman Apr 27, 2019
---
ExpressRoute Direct and ExpressRoute Global Reach are available to be used now. These services extend the capabilities of ExpressRoute.
ExpressRoute Direct gives you the ability to connect directly into Microsoft's global network at peering locations strategically distributed across the world. This is different from simple ExpressRoute connectivity in the way that now you are not just connecting to one region but getting access to the complete Microsoft global network. It helps you with massive data ingestion to storage, physical isolation, dedicated capacity, and burst capacity to use Microsoft's global backbone to access Azure regions at tremendous scale.
ExpressRoute Global Reach is the service where if you have two datacenters, which are located at different geo-locations and both are connected to Microsoft Azure via Express Route then these two datacenters can also connect to each other securely via Microsoft's backbone.
As shown in the below example, the two locations i.e. San Francisco and London are connected to Azure via ExpressRoute. Due to the Global Reach feature, now the traffic between these two datacenters can also traverse on the Microsoft backbone securely (as shown in the green color).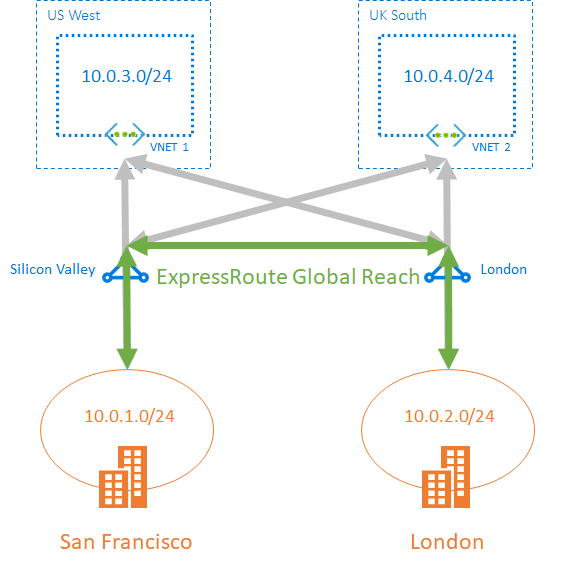 (Image source: Microsoft)
For more information check here: