Azure Tips & Tricks - Find solutions to most common problems for any resource
@20aman Jan 25, 2019
---
When working with Azure resources, you will be faced with the challenge of diagnosing, troubleshooting and solving issues related to your resources. Opening a Microsoft Support case should be the last resort.
This tip is generic in nature that shows you where to look for various solutions to the most common problems related to a resource. You can find this option under any resource as "Diagnose and solve problems"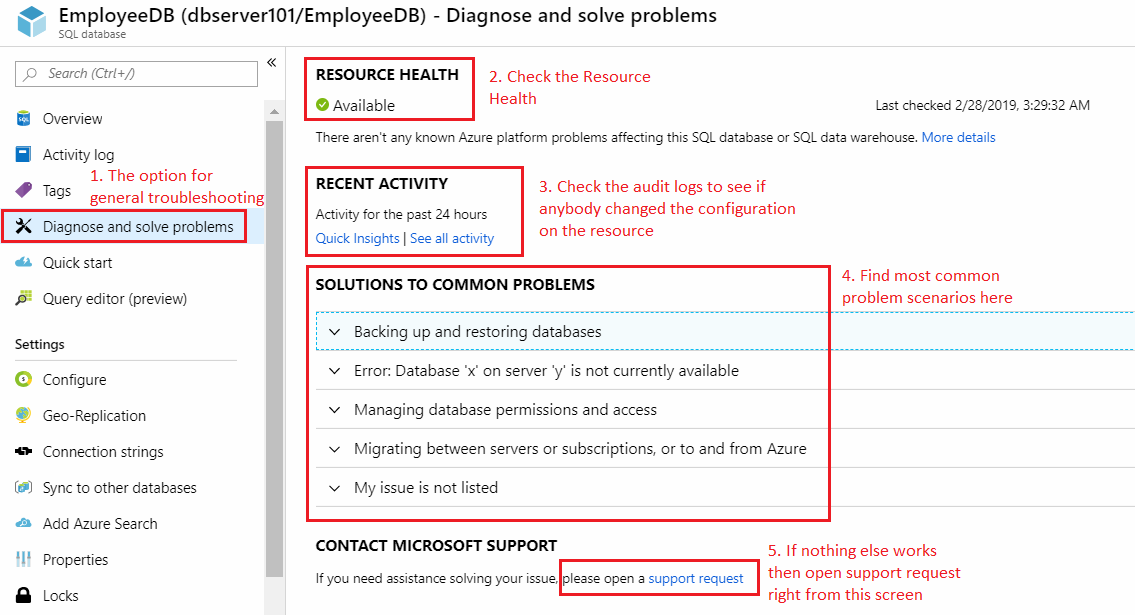 Troubleshooting Workflow
Using this a common troubleshooting workflow will look like this:
Click on the "Diagnose and solve problems" option under your resource's blade.
Look for Resource Health. I have had a scenario where after a lot of troubleshooting around Azure Automation, we came to know that the service was experiencing issues in our intended region (US South Central). A quick check from this will rule out the obvious.
Next, you want to check the "Activity logs". You can check those right from this screen. You can find if anybody changed the configurations which might have resulted in errors you are observing.
Next section shows you some of the most common issues and how to resolve these. Scroll through these. Sometimes these include step by step guides to help you. Follow these and ensure you did not miss a step.
If nothing works, you can finally open a Microsoft Support request right from this screen. Note: If you can't find your issue under common problems, I highly recommend that you search for it in forums like StackOverflow etc. before you open the Microsoft Support request. If it is a business critical issue, then I would recommend that you open the support ticket first and then search for the issue in the interest of time.